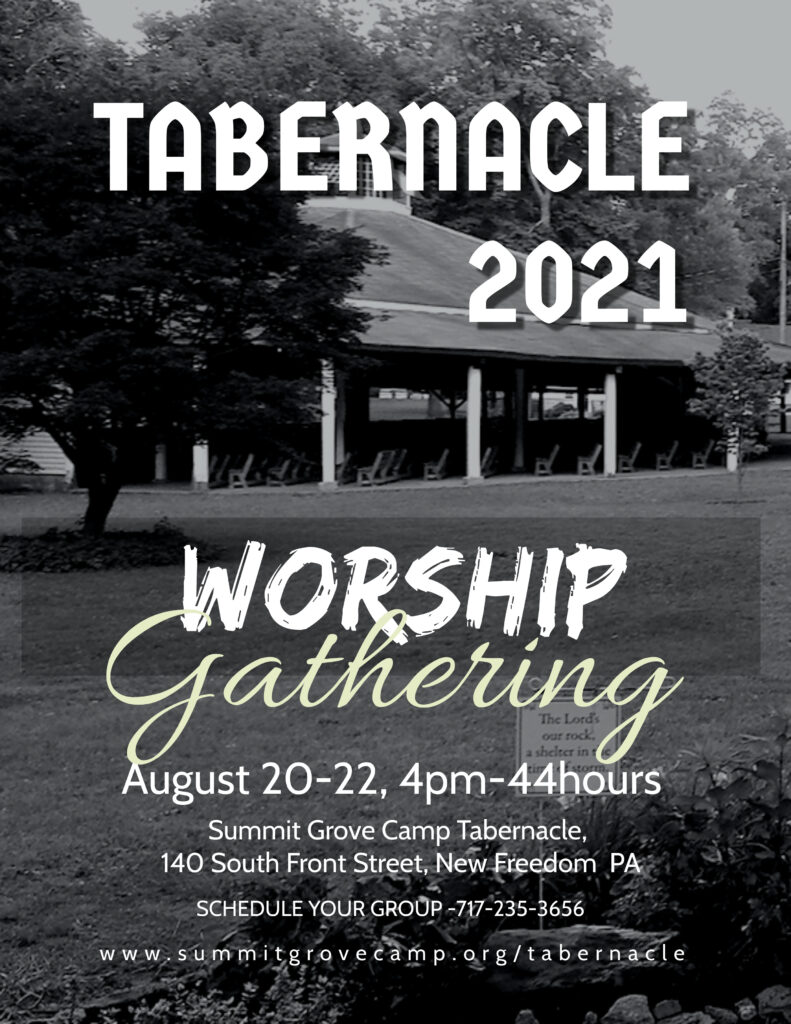 About:
Summit Grove Camp & Conference Center has a 220+ year history of people coming together to encounter the Lord's presence. Known for its huge open Tabernacle, Summit Grove has hosted thousands of people over hundreds of years, and has been a central meeting ground for revival. It has become the home to this yearly gathering, a confluence of many streams merging together for one purpose, to bring glory to Jesus. He alone is worthy.
We will begin praise and worship at 4pm Friday, August 20 and go through Sunday, August 22 at noon. All are welcome to the free picnic and swimming immediately following!
Hosted by: Justice House of Prayer & PA House of Prayer Network, NEPA Area Aglow, Voice of the Bride, and Summit Grove Camp & Conference Center.
Lodging & Meals:
Overnight lodging & meals are available! See our full list of lodging options.
For those interested in staying in a Lodge Room or Motel Room, please register through NEPA Aglow. ($200 — includes a two-night stay in the Lodge or Motel, and 5 meals.) nepaaglow@gmail.com
For those interested in staying on a RV/tent campsite, in an A-Frame Cabin, or in a private cottage, please register through summitgrove@summitgrovecamp.org. Meal plans are also available as an add-on. ($50 includes 5 meals, Friday dinner through Sunday breakfast)
The Snack Shack will be open at select times for light food and snacks.
Event Schedule:

FRIDAY:
3PM       Registration opens in Lodge
4PM       Praise and Worship starts in the Tabernacle and continues non-stop for 44 hours
5:30PM  Dinner in Lodge
7PM       Praise, Worship & Session 1- Dennis See, Justice HOP
SATURDAY:
8AM        Breakfast in Lodge
9:30AM  Jewish Dancing & Judy K.
12PM      Lunch in Lodge
5:30PM  Dinner in Lodge
7PM        Worship and Session 2- Jodie Brandt, NEPA VP LH Development
SUNDAY:
8AM         Breakfast in Lodge
8:30AM   Final set with JHOP & PA Houses of Prayer
10AM      Worship/Church Service led by Freedom Community Church & York House of Prayer
12PM      Picnic Lunch and pool party! (FREE)
Worship & Intercession Sets:
Bring your House of Prayer or church worship team. Sign up for day or night watch, alone or with a group of friends and family. Or just come to worship from your seat.
To lead a worship slot or intercession slot on the schedule, please contact (570) 250-1885.