Save the date for family camp!
July 20-27, 2024
---
Stay tuned for more information for 2024!  The details below this line are from 2023.
—————-
For decades, Family Camp has been hosted at Summit Grove. It is organized by a commitee from churches in the Eastern PA and Mid-Atlantic Districts of the Alliance, and includes many fun and spiritually-engaging  programs for all. View and download the brochure below for information on the schedule of events, key speakers, and more!
Highlights Include:
Daily spiritual growth – preaching, training, and ministry opportunities
Daily fun – free time, family activities, social activities, water activities
Daily community – lodging, meals, and plenty of time for connecting with family and friends
Special Event Saturday! – free dinner from 5:30-6:30 PM, followed by Regional Worship Night at Summit Grove Tabernacle at 6:30 PM!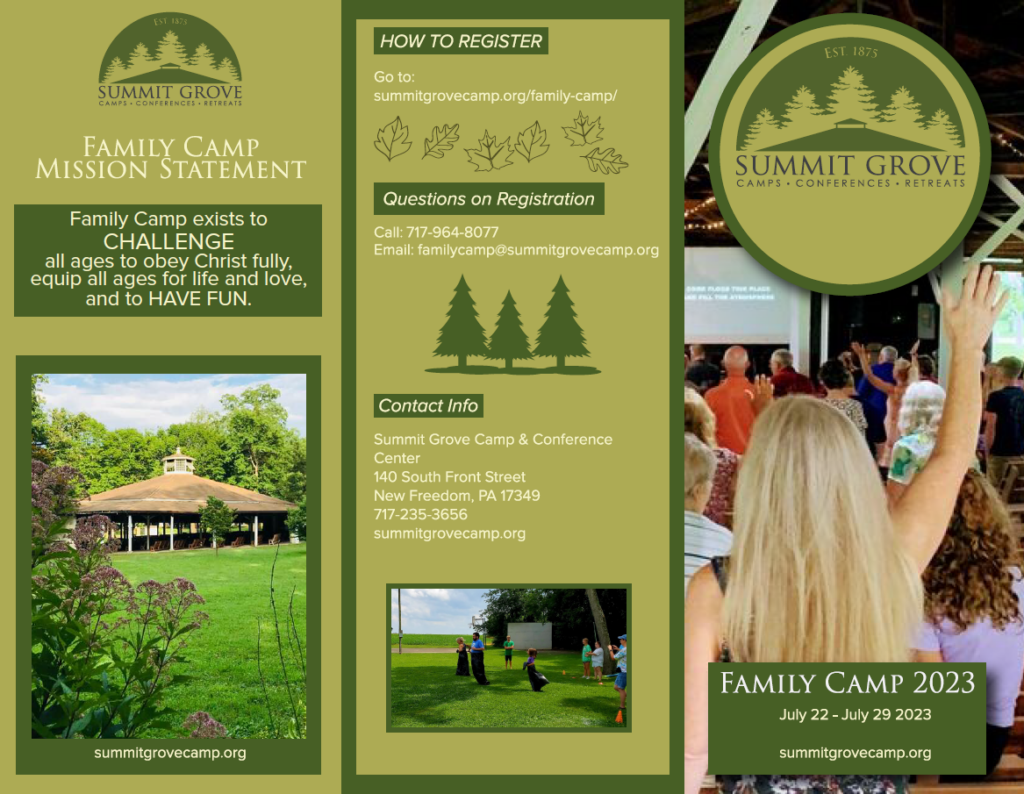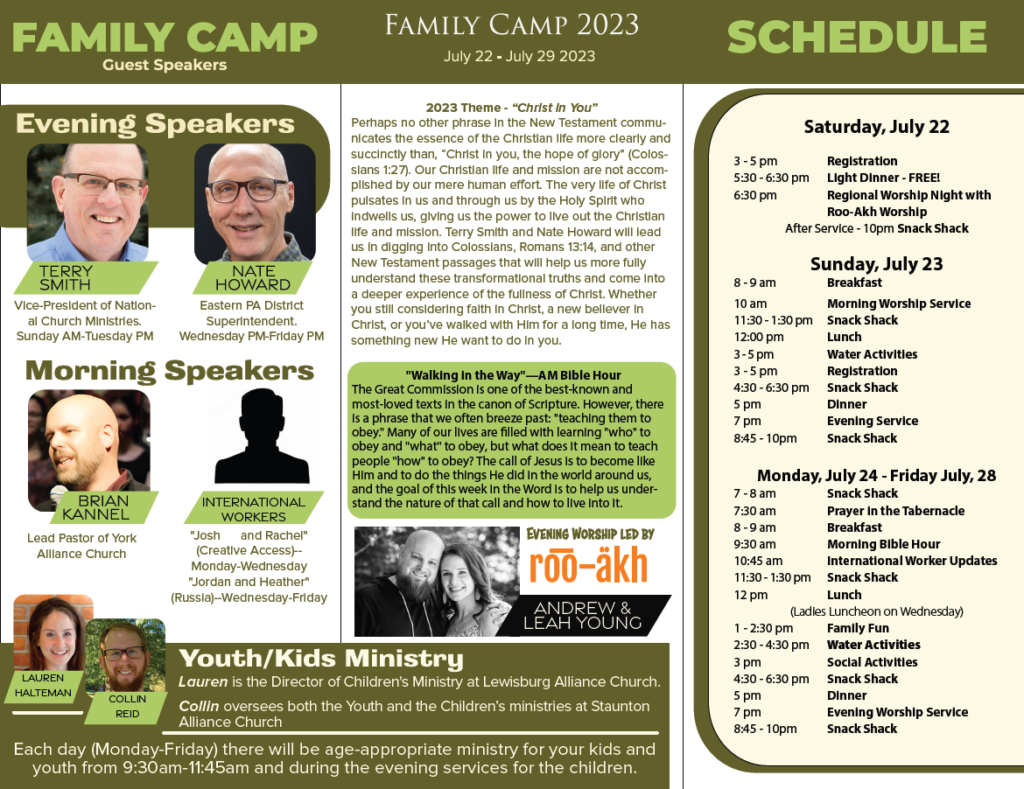 Lodging:


Overnight lodging & meals are available on site! See our full list of lodging options, pictures, and amenities here. Anyone is welcome to attend any part of the week for free without lodging and meals selected. Pre-registration is required at least two weeks in advance IF you will be registering for lodging or food.
Lodging Options:
1) Lodge Room (4 beds)
(private bathroom, linens provided)
2) Motel Room (Renovated) (2 beds)
(private bathroom, linens provided, microwave, mini frig)
3) Motel Room (Standard) (2 beds)
(private bathroom, linens provided)
4) A-Frame Cabins (6-8 beds)
(bathhouse, no linens provided)
5) Dorm Rooms (6-8 beds)
(bathhouse, no linens provided)
6) RV Sites
(water, sewer, electric hookups, 30/50amp)

OPTION 1: Weeklong Meal Pass: 
Gives access to breakfast, lunch, and dinner (19 meals total!) from Sunday breakfast (7/23) to Saturday breakfast (7/29).
Adults (ages 11+): $150 
(avg $7.89/meal)

Kids (Ages 3-10): $75
(avg $3.95/meal)

Kids 2 and under: Free

OPTION 2: "Pick 10" Meal Pass:
Select up to 10 meals and save! This allows you to hand pick which 10 meals you will plan to eat. Any additional meals are at the walk-in rate.
Adults (ages 11+): $100
(avg $10/meal)
Kids (Ages 3-10): $50
(avg $5/meal)
Kids 2 and under: 

Free
Important: If you selected the "PICK 10" Meal Plan Options, the menu will be available for your selection 2-4 weeks before Family Camp, and you will receive an email from which you can select your meals.
OPTION 3: Walk-in / Ala Carte Meals:
All walk-in or ala carte meals under 10 meals are $12/meal ($10 for bfast) for adults and $6/meal ($5 for bfast) for kids ages 3-10.  Walk-ins will need to wait 10 minutes past the start of serving time to ensure meal plan participants receive their meals. Walk-in meals are only available while supplies last.
SPECIAL OPTION: Women's Luncheon:
Wed 7/26, 12 PM – Banquet Room. Our annual special luncheon just for women! The rate for this luncheon is $15. Women's Luncheon must be registered for separately below. GF (Gluten Free) options are available.
Meals Registration is CLOSED. If you have any questions please email familycamp@summitgrovecamp.org